I only recommend products I use myself and all opinions expressed here are our own. This post may contain affiliate links that at no additional cost to you, I may earn a small commission.
The kids have received their back to school supply lists for the upcoming school year. We have two in middle school and one on his last year of elementary school. We are working on getting the computers we need at home so everyone can do projects and homework. We are on the go a lot so having a laptop helps getting school work done even easier. Best Buy has a sale going on right now (until 7/28) on the HP Envy x360 laptops just in time for back to school.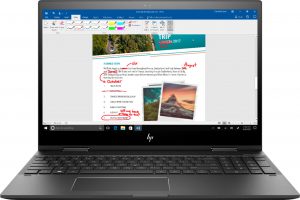 I have been a fan of HP since I was typing up papers of my own back in high school. Laptops and computers have come a long way with their technology since then. Although I am a blogger and use a computer for 90% of my 9-5 job I still feel like the kids can teach me some things about them.
Why do I think the HP Envy x360 laptop from Best Buy is a good idea? HP Envy x360 laptops are 2-in-1 devices that can transfer from a laptop to a tablet in seconds. These touch-screen laptops come with Windows Ink capabilities and a Windows operating system so you can write on the screen with your stylus. AMD processors make them fast and thin so you can take them with you anywhere you go.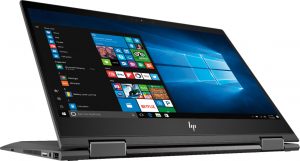 Windows 10 operating system
Windows 10 brings back the Start Menu from Windows 7 and introduces new features, like the Edge Web browser that lets you markup Web pages on your screen.
Built for Windows Ink
The kids can quickly jot down notes and ideas with ease.
Full HD touch screen
The 1920 x 1080 resolution boasts impressive color and clarity. Natural finger-touch navigation makes the most of Windows 10. IPS technology for wide viewing angles. Energy-efficient WLED backlight.
8GB system memory for advanced multitasking
Substantial high-bandwidth RAM to smoothly run your games and photo- and video-editing applications, as well as multiple programs and browser tabs all at once.
360° flip-and-fold design
Offers versatile functionality with laptop, audience, tabletop, presentation and tablet modes.
What better way to do a presentation than with the HP Envy x360? Until tomorrow 7/28 Best Buy is offering $100 off of the HP Envy 13 in. laptop and the HP Envy 15 in. laptop.
Do your kids use a laptop for school? What is your go to laptop for school/homework? What features do you look for when purchasing a laptop?