I only recommend products I use myself and all opinions expressed here are our own. This post may contain affiliate links that at no additional cost to you, I may earn a small commission.

It's back to school time all ready. I feel like they just got out for summer break and here they are going back again. This year I have a 4th grader and 1st grader. Clothes, shoes, backpacks, the boys wanted it all to start off the new year. Now both of my boys enjoy shopping and we shop JCPenney a lot. We even get their haircuts at the JCP salon throughout the school year. Did you know you can use your JCPenney credit card at the salon? I didn't realize that until last year.
A week before school was to start I took the boys back to school clothes shopping. The first store we went to was JCPenney. They wanted to look at shoes first. My oldest (9 ½) is usually the one that takes the longest when it comes to choosing his school shoes. This time he browsed the boys shoes aisle and chose a pair right away. He went with Chucks aka Converse shoes. My youngest (6 ½) went through many try-ons of shoes before choosing the ones he felt were perfect for him.
Once we had shoes they each chose a backpack. Caleb went with the one strap cross body bag from Adidas and Kyle chose a High Sierra regular backpack in a nice shade of blue. Both boys have been through multiple bookbags last year so I was glad to see that both bags that were chosen have lifetime warranties. Once we had shoes and bags it was time to hit the clothes racks and fitting room.
Kyle (my 6 year old) is like most little kids that enjoy wearing the cartoon character shirts. He's also more like a grown up as he also prefers to wear polo shirts and dress shirts with bow ties. I love his style. I never know what part of his personality will emerge from his bedroom each morning. He has just as many facial expressions as he does outfits in his closet. After about 30 minutes of looking through the shirts and jeans we found some goodies that he was quite content with me buying for him.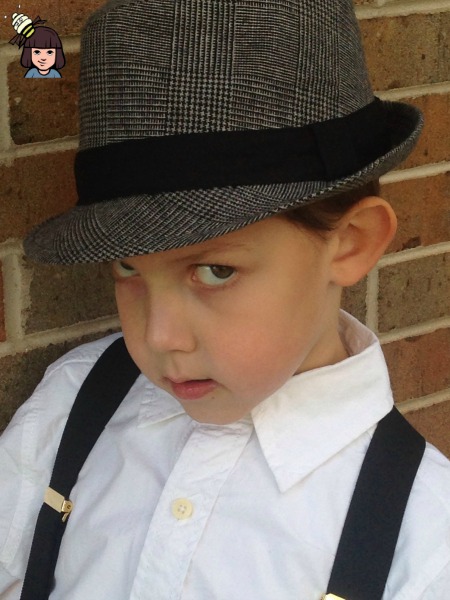 Caleb is complete opposite personality and fashion wise from his younger brother. The only time you'll catch Caleb in dress shirts and ties is when I make him wear them to church and even then he will ask to wear something else. What does he like to wear when it comes to school time? He likes wearing the character tees of his favorite heroes or games but he also likes plain tees that he can pair with his camo. He is my little country boy. He loves his camouflage and his WVU blue and yellow. I bought him a WVU sports watch from JCP.com last Christmas and he's hardly taken it off since he got it.
Though my fellas are complete opposites we can always find outfits to suit them both at JCPenney and JCP.com. They were all ready to start back to school in their own ways.
With coupons, store sales and a gift card I was able to get all the clothes shown (plus socks, underwear and a belt not shown) all for about $200 at JCPenney. Boys are happy and ready to head back to school in style and Mama is happy to be able to afford and get them exactly what they wanted. They all ready had a lot of jeans and pants to start the school year so we focused on shirts and other things they needed.
When It Fits, You Feel It. www.jcpenney.com/backtoschool
Disclosure: Compensation was provided by JCPenney via Mode Media. The opinions expressed herein are those of the author and are not indicative of the opinions or positions of JCPenney.