I only recommend products I use myself and all opinions expressed here are our own. This post may contain affiliate links that at no additional cost to you, I may earn a small commission.
I had listened to the two boys beg and plead for a dog for months. I wasn't ready to take on another living creature to take care of, I felt like the two boys were all I could handle some days. Finally after liking the local shelters on Facebook I noticed one was having a special during the summer where they were trying to give 1,000 animals a home during the summer. I looked over the dogs that were up for adoption and decided to take the boys by the humane society to see if we could all decide on a new family member. There were so many dogs (and cats) in need of a forever home. Walking through the shelter broke my heart.
I had in mind of getting a puppy, something the boys could grow up with, but no such luck that day. No puppies to be found but I decided to visit each kennel to see who was in need of a home. There are a lot of pits (pit bulls) who ended up in the shelter. I think pits and pit mixes get a bad rep, not all pits are vicious and incapable of being in a family. Then we got to a kennel that had 2 hounds in it. One was a female and one was a male. We decided to take the female out to the visiting pin to see if we would be a good match for one another. She wouldn't budge from the kennel though. The volunteer said she was very timid and scared. The male hound though was very excited to see people at his door and the boys were interested so we decided to take him out to visit with instead.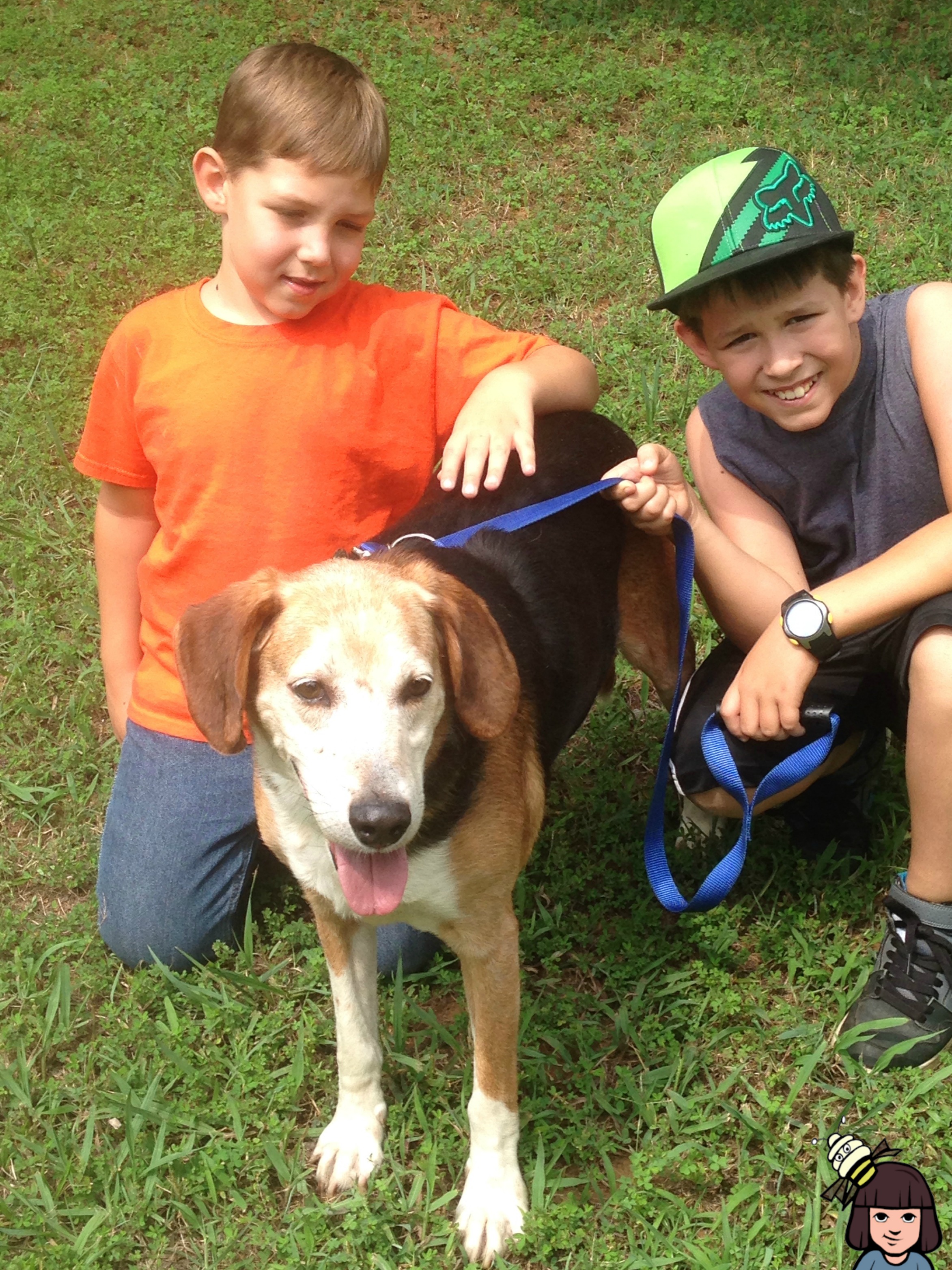 It was love at first sight. He was a senior, at a whole 6 years old, but we loved him. The meet went well in the pin so I decided that Casper needed to come home with us. While he was prepped to leave I went up front to sign papers for him. After the paperwork was finished the lady that was putting our info in the computer says oh by the way he has tested positive for heart worms. I'm guessing with his older age and the positive for heartworms was the reason he was at the shelter for so long. What was I to do? The boys had all ready fallen in love with him and we had agreed to take him so how could I tell them that Casper was sick and we couldn't take him? I couldn't and I didn't. Casper was life #423 of the summer of 1,000 lives that was saved.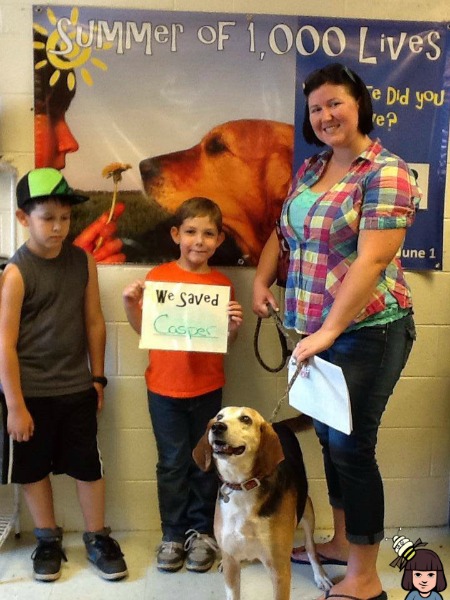 The boys and I weren't sure what to expect once we got Casper home. Was he house trained? Would he easily adjust to being with us? Would the boys be able to live up to their promises of helping take care of a dog? As I mentioned, Casper is an older dog and I figured he would be kind of set in his ways of living. Not knowing his history prior to the shelter I was hanging on to hope that we really could be Casper's forever home.
It's been 2 months since we adopted Casper. He's ran off from us twice. The first time he spent a few days roaming the county at my Mom's and luckily because he was microchipped and there are wonderful people that live in Ringgold, VA we had Casper returned to us. The second escape was at our house and he only made it to the house two houses up before we were able to lure him back with bacon. That hound nose of his couldn't turn down bacon.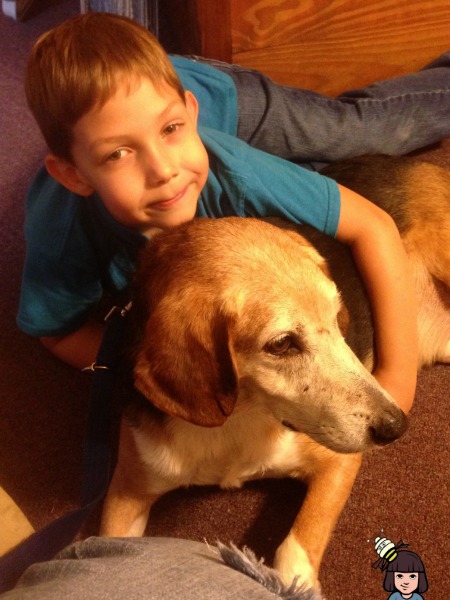 The boys went back to school so it was then just me and Casper during the day. I enjoy having him here. Sure I have to take him out for walks (but hey he's house trained!) and he eats like a horse but I don't feel alone. Yes, we saved a life by adopting from the shelter instead of buying a dog somewhere but I also feel like Casper has saved my family at the same time. Having a dog doesn't fill the void the boys feel at times (missing having their dad at home) but having Casper has helped all three of us be a little happier.
If you are looking for a pet to add to your family check out your local humane society or shelter. You may find the furry love(s) of your life there. Also, please try and have your pets spayed/neutered to cut down on the animals being abandoned (I'm currently fostering 3 puppies that were abandoned) or sent to the shelters and keep your 4 legged babies up to date on vaccinations.