I only recommend products I use myself and all opinions expressed here are our own. This post may contain affiliate links that at no additional cost to you, I may earn a small commission.
This pina colada cake recipe contains alcohol and is not for anyone under the age of 21. Today is my third and final recipe as part of the 4th annual summer dessert week party with Big Bear's Wife and many other food/recipe sharing bloggers. What says summer better than pina coladas and cake? How about pina colada cake? The smell of this delicious pina colada cake makes me wish I was enjoying it on a beach somewhere. For now I'll eat my cake in my backyard poolside as that is as close to the beach that I am willing to get this summer.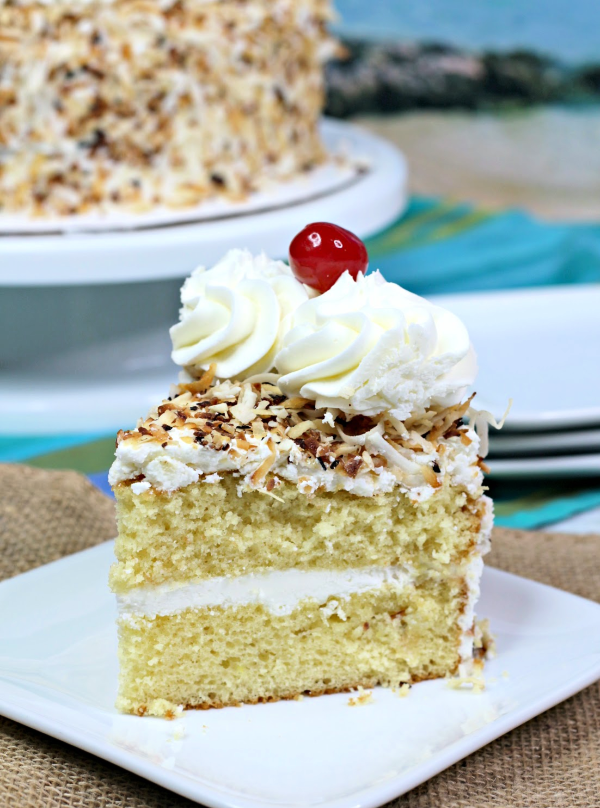 Pina Colada Cake ingredients:
Pineapple cake:
1 box of pineapple cake mix
3 large egg whites
1 cup of water
½ cup canola oil
Coconut Rum Frosting:
1 & ½ cups unsalted butter; softened
3 & ½ cups powdered sugar
3-5 tablespoons heavy whipping cream
2 teaspoons coconut flavored extract
½ cup coconut rum
2 (8 oz.) bags of shredded coconut
1 (8 oz.) jar of maraschino cherries
You'll also need 2 (9 in) cake pans, non stick baking spray for the cake pans, a piping bag and star tip, and a cake tray or 10 inch cake board.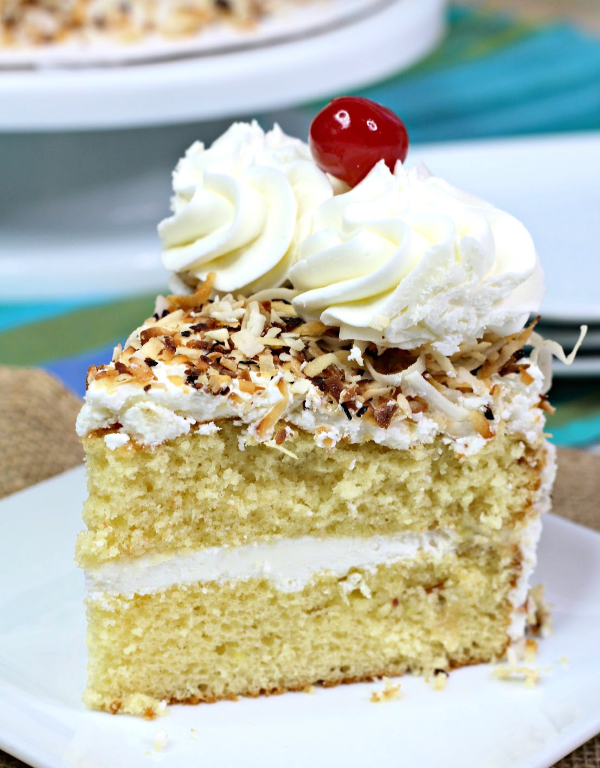 how to make pina colada cake
Directions:
In a large frying pan on the stove top, melt 1 tablespoon of butter on medium heat.
Pour one bag of the shredded coconut into the frying pan and spread it out evenly with a rubber spatula.
Allow the coconut to fry for 2-3 minutes before flipping it around in the pan.
Continue to fry the coconut until it looks toasted and then scoop onto a plate to cool.
Repeat the process for the second bag of shredded coconut.
Preheat the oven to 350 degrees F and spray the 2 cake pans with non stick baking spray.
With a stand or hand mixer and a large bowl, beat together all of the cake ingredients until blended and smooth.
Divide the cake batter as evenly as you can into the 2 prepared cake pans. Place both pans in the oven and bake them for 28-32 minutes or until a toothpick inserted into the middle of each cake comes out clean.
Remove the cakes from the oven and allow them to completely cool.
To make the frosting use a stand or hand mixer and large bowl to mix together all of the frosting ingredients except for the coconut and cherries. Mix until combined and stiff peaks can form.
Scoop 1 cup of the frosting into the piping bag with star tip and set aside.
Place one cake layer on the cake tray or cake board cutting any dome shape off of the top to make sure it sits flat.
Scoop 1 cup of the frosting on top of the cake layer and spread it out evenly.
Place the second cake layer on top of the layer of frosting.
Use the remaining frosting to cover the top and sides of the cake.
Take the cooled coconut shreds and cover the top and sides of the cake frosting.
Grab the piping bag you set aside earlier and pipe dollops of the remaining frosting around the edge of the top of the cake.
Top each dollop with a maraschino cherry.
Serve and enjoy!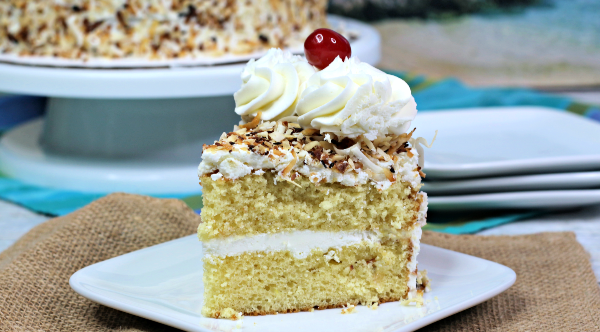 Welcome to the 4th Annual #SummerDessertWeek event hosted by Angie from Big Bear's Wife. We're celebrating all things summer with a week-long event that is absolutely filled with some of the best summer dessert recipes! Follow the hashtag #SummerDessertWeek on social media to find recipes and make sure to check out the bottom of this post for even more summer desserts!

Check out the amazing #SummerDessertWeek recipes from our bloggers today!
Ice Cream & Chilled Desserts:
Grilled Desserts:
Summer Pies:
Sweet Summertime Cakes and Cupcakes:
No Bake Treats:
Baked Desserts: