Today, November 18th, is a special day at our house. Our baby girl, Kaylee, is now two! She shares her birthday with the one and only, Mickey Mouse. Mickey turned 90 today. We celebrated both Kaylee and Mickey with some Mickey Mouse birthday banana cupcakes. This recipe post is sponsored by Dole who sent us a Mickey 90th celebration party kit.
We are a Disney and Mickey Mouse lovin' family. Geek Daddy and I even eloped to Orlando and had a Walt Disney World Disneymoon. Kaylee shares in our love of all things Mickey Mouse. Her birthday party we had last weekend was Minnie Mouse themed. When Dole asked if they could send Kaylee a Mickey Mouse 90th birthday celebration box to help celebrate their birthdays of course Mama said yes. She loves "bendas" (bananas) just as much as she loves her Mickey.
Mickey Mouse birthday banana cupcakes
The recipe Dole sent us was for Coco-nana cupcakes but Kaylee is not a fan of coconut (and neither is Mama) so we just used regular whipped topping on ours. I love banana pudding and banana bread so I was sure I would enjoy a banana cupcake too and sure enough I was right. I guess without the whipped topping on top it could technically be called a muffin, at least that's the logic of my 10 year old.
Our celebration box included everything we needed for the cupcakes except for the egg. They sent small sized portions of all of the other ingredients and included coupons to get the Dole bananas and the Dole Dippers. It also included a Mickey Mouse plush, party hats, an apron and chef Mickey hat, and Mickey spatulas. Kaylee's brother Kyle quickly claimed the apron and hat as he helped me make the banana cupcakes.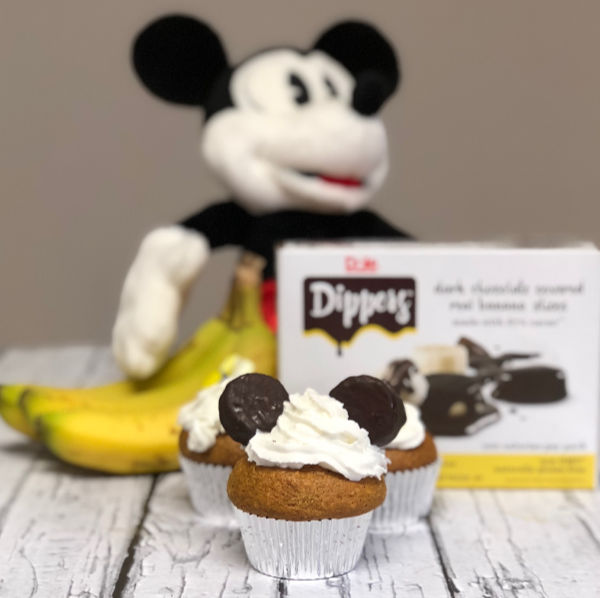 Mickey birthday cupcakes
Mickey Mouse birthday banana cupcakes
Ingredients
1 & 1/2 cups all-purpose flour
1 cup honey
1 Teaspoon baking soda
1/8 Teaspoon salt
3 medium ripe DOLE bananas; mashed
1 large egg
1/3 cup olive oil
1 Teaspoon vanilla extract
1 can whipped topping
24 DOLE Dippers bananas; slightly thawed
Instructions
Preheat oven to 375 degrees F.
Line large muffin cups with liners.
Place all of the ingredients in a blender or processor (I used a blender). Cover; blend until smooth.
Fill muffin cups half full with batter.
Bake cupcakes 18-22 minutes.
Cool 10 minutes and then remove them from the pan to a wire rack to cool completely.
Top with whipped topping and then 2 banana dippers for Mickey ears.
http://www.itsshanaka.com/mickey-mouse-birthday-banana-cupcakes-dole-mickey90/
Happy 2nd birthday Kaylee and Happy 90th birthday Mickey Mouse! These Mickey Mouse Birthday Banana Cupcakes are super easy to make and will make any Mickey party a hit.