I make this for the holiday meals for Daddy B's work. Everyone loves it. Even a guy that's allergic to the oranges or something in the cake even eats it! He takes some benadryl and then has some cake, must make it pretty darn good huh? I've heard some folks call this a pig pickin' cake. Which ever suits your fancy I reck'n. This is one of my grandpas favorite cakes. He's helped cut my grass before and all he wanted in return was some cake. I love a man who works for baked goods 😉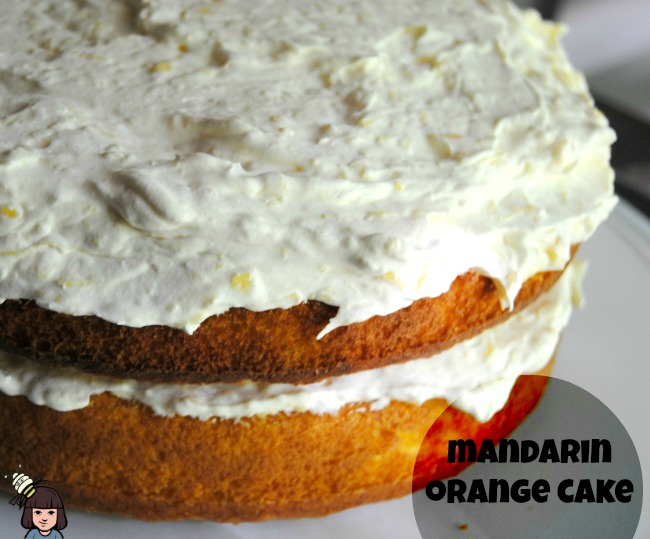 Mandarin Orange Cake
Ingredients:
1 yellow cake mix from a box (I use Duncan Hines cake mix)
1 can mandarin oranges with juice (don't drain the juice out)
4 eggs
1/3 cup vegetable oil
1 container (16 oz) cool whip (you may have leftovers depending on how thick you icing)
1 can crushed pineapples (8 oz)
1 small box vanilla instant pudding
1 c. coconut (optional)
Put cake mix, oranges and juice, eggs and oil in a bowl and mix with a hand or stand electric mixer. Pour the batter in to 2 greased and floured 8 or 9 in. cake pans (I use the Bakers Joy spray can to do the grase/flour coat on my pans). Bake at 350 degrees for 30 minutes. Remove from oven and let the cakes cool in pans for 10 minutes, then flip them out on to racks and let them finish cooling. Once the cake is cooled you can start making the icing.
Mix the pineapple (with its juice) and pudding mix with a mixer in a bowl. Then add the cool whip and gently fold with a spoon or fork so that the cool whip doesn't go flat. If you choose to use the shredded coconut you add that to the icing mix as well. Icing one layer and place other layer on top and finish covering in the cool whip topping mix.
pig pickin' cake
Keep the cake refrigerated or your cool whip will get all funky on ya. Enjoy.