I only recommend products I use myself and all opinions expressed here are our own. This post may contain affiliate links that at no additional cost to you, I may earn a small commission.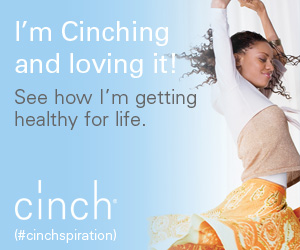 I shared my Cinch journey with you all during the last 6 months. Being a part of the Shaklee Team Cinchspiration changed my life. As the program came to an end all the bloggers that participated had the choice to apply to be the Shaklee 180 blog spokesperson for 2013. I thought I'd share with you the video application that I put in. No matter if I win any of the $$$ prizes or not I feel like I won but I won't lie the extra money and prizes would be a major plus of winning the spokesperson job. The video is less than 2 minutes long, so there was a lot I wanted to say but only a couple minutes to say it. What do you think? I am up against some tough competition of wonderful bloggers but I believed in myself enough to step out of my comfort zone and put myself out there. You can't win if you don't try right?
There is no public vote, the Shaklee team will be doing the voting. I want to thank each of you for the support and care that you have shown me as I went on this journey. I appreciate each of you.
Disclaimer: This is a sponsored post as part of the Shaklee Corporation's Team #Cinchspiration Campaign. I have received free products, online support and incentives for participating. Opinions are my own. Results and experiences are unique for each person, so results may vary. People following the weight loss portion of Shaklee 180 can expect to lose 1-2 pounds a week.